Welcome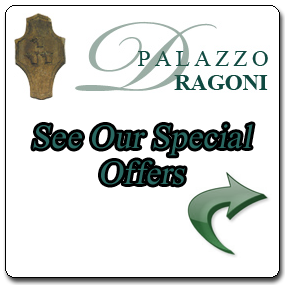 Palazzo Dragoni is a fine and elegant residence, located in the historic center of Spoleto close to the Cathedral.

The building dates back to the mid 1500, it is a work of renovation and replacement of the oldest buildings dating from 900-1000 with the ruins of an ancient medieval tower built on the walls of pre-Roman times. You can still see the old street of the same era onto which the old buildings, which still shows the charm of past centuries.

The family are listed by Saverio Dragoni Minervio among the "famous folk" those that are inserted into position in the emerging city of Spoleto, using the proceeds of agriculture and public offices. Family coat of arms is the shield in the form Samnite clipeato talking heads with three golden dragon on a red and green in a modified three-headed golden field.

Dragon Palace is now owned by the family Diotallevi, who turned it into a fine historical residence. In the true spirit of this particular hotel classification of the Umbria region, the owners will personally welcome their guests, hoping that at their departure they will feel like hotel customers but like guest in their house.